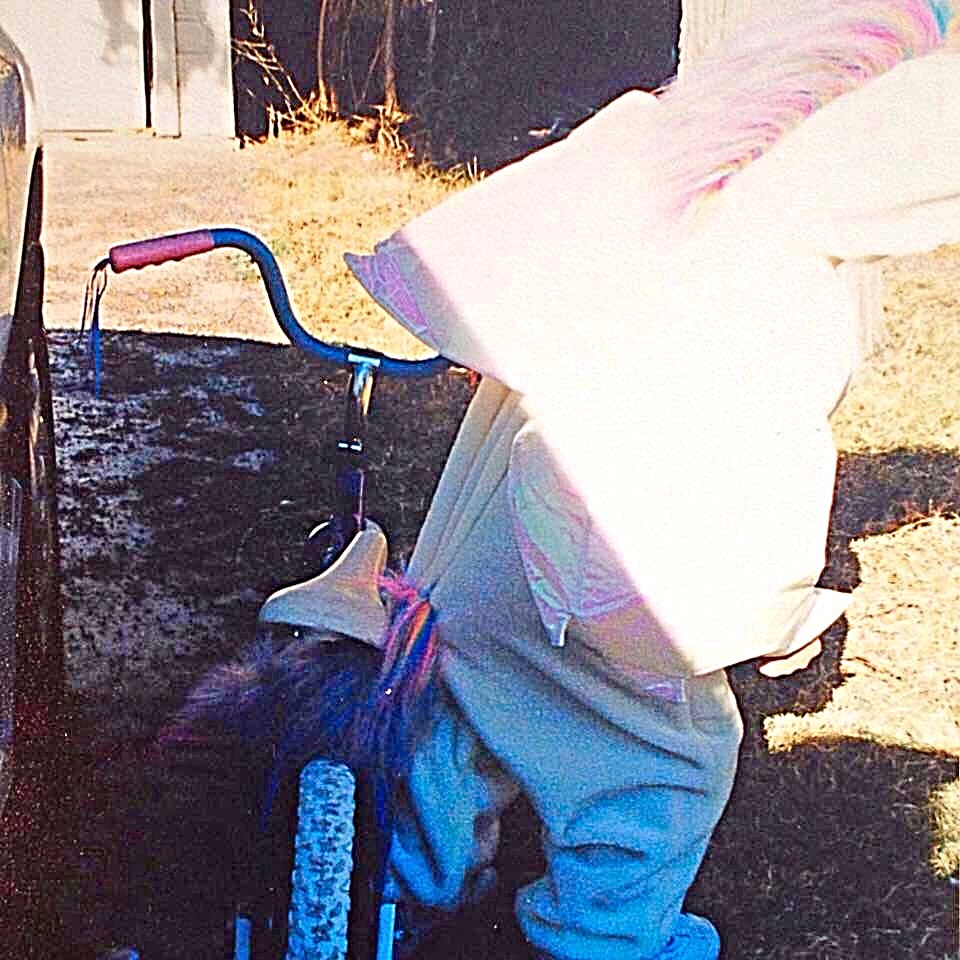 Tayler with her tail caught in the spokes of her bike. She dragged the bike like this for ONE BLOCK.
It was a beautiful day, one like no other. This unicorn went out to play, unbeknownst to her mother.
If you've ever seen Legend then you already know, unicorns are in danger from evil goblins or trolls.
Feeling adventurous she went on a journey, that ended up being…oh SO funny.
This little unicorn didn't fall from a poisonous dart, oh no…t'was nothing so sinister or dark.
I think it was the handlebar ribbons, that made her give in, so she took off on her bike – oh my gosh what a sight.
All good things come to an end, what a said looking little unicorn friend.
Try as she might, she couldn't hide out of sight, her tail in the spokes as she dragged her bike.
Hearing strange sounds coming from down the street, her mother had to go on the porch to take a peek.
What she heard was the rythmic scraping of metal as it's dragged a few seconds, and then stifled sniffles.
Knowing her story was never believable, Mommy grabbed her camera – her attempts to hide it were feeble. 😏
Mom took some pics and the unicorn protested, but her escape was a little complicated.
Eventually she was able to free her tail from the horrible bike with the enticing streamers. Tayler wore that costume until it was too small. She gave it to a thrift store instead of her sister, because she couldn't bear to see someone else to wear it.
Since I'm not a poet, the rest of my tale is:
I asked Tayler, "why didn't you call for mommy to help you?"
She said, studying the picture, "Why didn't I just take the suit OFF?!"
Great question. That's how I know you don't need "mommy" anymore, you thought of a solution I didn't. 😊 That's how it works.
Tayler is currently continuing her "therapy" from childhood adventures like these, at MCRD – Parris Island.