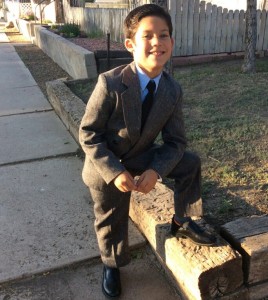 Hi! My name is Leyba. Ethan Leyba. My mom (and my sister) call me Scott.
I am the ba…no, wait I'm the youngest of the family.
I love sports. Right now I am trying boxing at Valley Heights. I also love to wrestle. My brother Michael used to wrestle for LJHS. This year I get to play tackle football. My mom thinks I'm still a little small.
My mom says I'm the only one she doesn't have to share, so this summer we're going to spend it hanging out together. She has lots of goals for me.  One of them is learning how to type and to keep up with my writing skills. So, she said I will blog.
But back to sports, I've been in wrestling for five years, football two, and this is my first year of boxing and I'm doing pretty good. A lot of people like how I box and they get surprised how fast I learn.
Today we are going to the library for the Summer Reading Program Kick Off. My mom promises it will be lots of fun. There was a bit of a scare the other day. A car ran into a couple of light posts and a tree right in front of the library!  Then we're going to see if they're serving lunch at the Intermediate School. Usually we have the free lunch program during the summer and that's actually pretty fun to run into friends  and hang out for a bit.
Then we're off to The Wipe Out, where my sister works!
Time to go. I hope you enjoy following me on my summer adventure with mom.
(My mom added the links and does the spell check, until I'm better.)